Coronavirus! Nigerians In Wuhan Face Psychological Anguish!
https://www.auntydebbysblog.com/2020/02/coronavirus-nigerians-in-wuhan-face.html
Nigerians in China, particularly Wuhan were unhappy to see the videos of lawmakers whom they voted for , laughing and jesting about such important matter that concern life.They expected them to douse the fears of the Nigerian populace and arm themselves with information about the epidemic and how to guard themselves.Meanwhile, quite a number of countries have evacuated their citizens!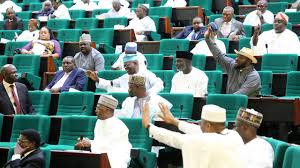 Reps rejecting motion seeking to evacuate Nigerians from China.
Photo credit: Google images.
Nigerians are innumerable when it comes to their population in China. Nigerians who are known to be adventurous and widely travelled are scattered in different parts of China. Students and those in search of greener pastures and a quality life are inclusive.Wuhan, where the disease emanated from can't be free from Nigerians, thus, the fear.
There hasn't been any record of Nigerians with the virus but the need to alert them to flee seems to be a thing of concern for the 79 Nigerians there.Quite a low number compared to other China states. The attitude of the Nigerian Government not being the first or among the first to evacuate it's citizens has shown that they place less value on citizenship.
Since the lockdown of movement in Wuhan, Nigerians have been expecting support in terms of finance and essential supplies which is yet to come!